More About EVO's ISV Solutions
Snap Gateway
Snap Gateway is EVO's full-featured, easy-to-integrate payment gateway for online merchants looking for a flexible and customizable payment solution. It can equally serve small companies or large merchants with high transaction volumes. Snap Gateway can be used for new eCommerce integrations as well as for a robust virtual terminal solution. Integration methods include:
Direct API – For larger merchants with a PCI-compliant payment environment, EVO offers a direct integration API that enables merchant websites to communicate directly with the Snap Gateway. This allows for the development of a fully-customized payment system.
Shopping Cart Plug-Ins – The fastest, simplest way to accept online payments by providing a streamlined application that integrates with a merchant's website. Use Snap's plug-ins or those from third-party providers.
Hosted Payments – For merchants that want to sell online but don't want to manage a complex, PCI-compliant environment. Instead, merchants will integrate Snap Gateway's own hosted payment form into their checkout pages.
---
Commerce Driver
Commerce Driver is a broad suite of proprietary point-of-sale (POS) applications designed to meet the needs of our clients and partners, including integration tools that enhance the functionality of legacy platforms.  Commerce Driver easily adds global EMV transaction processing to Android™, iOS, and Windows®-based POS applications, and provides ECR support.
MULTI-PLATFORM CAPABILITIES
Create EMV approved Android, iOS, and Windows-based POS applications in a snap with the Commerce Driver from EVO Snap*
PCI COMPLIANCE
Meet all EMV Level 3 compliance requirements and instantly enable PCI-compliant transactions with end-to-end encryption using the EMV Commerce Driver from EVO Snap*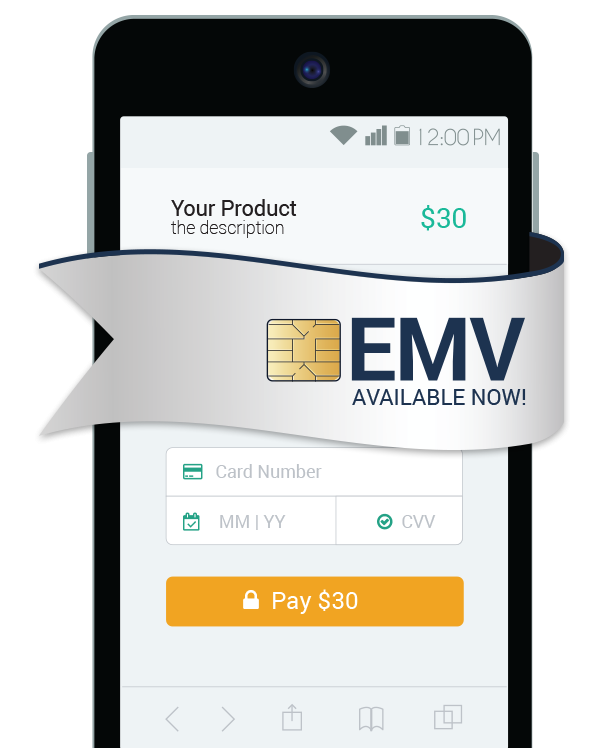 ---
Virtual Terminal
EVO VT is an ideal payment solution for many business types – B2B companies, professional healthcare offices, e-commerce merchants who sell from a website, and merchants who accept mail and telephone orders.
EVO Virtual Terminal makes it easy to turn any internet-connected PC or laptop into a low-cost, convenient way to accept credit and signature debit card payments.
Simply open your internet browser, log on to the EVO VT homepage, and
start processing payments quickly and securely. You can either key in credit card information or swipe cards with an optional card reader.
The Benefits of Virtual Terminal
EVO VT saves money. No need to buy a credit card terminal, supplies or software. No commitments or long-term contract.
EVO VT saves time. No software to download or update, two-second transaction times, and the ability to set up automatic recurring payments for customers you bill on a regular basis.
More features at a lower price. Customizable data fields, a Secure Customer Vault that stores card information for future processing, and powerful but intuitive reporting to manage finances.
Flexible payment options. Swiped, manual, credit, signature debit and gift cards. All major cards accepted: Visa, Mastercard, Discover, American Express and JCB.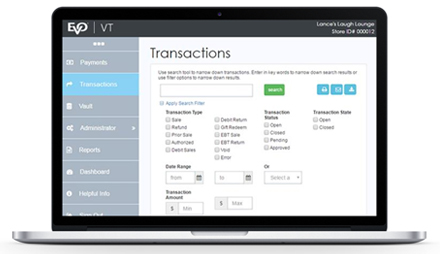 ---
EVO Now Hosted
EVO Now is today's fast and efficient solution to clunky merchant onboarding. Our integrated, secure, and scalable payments platform, EVO Now automates every step of the process for paperless and compliant onboarding.
Instant merchant qualification
Instant conditional approval
Instant boarding
Instant activation
EVO Now gives ISVs a streamlined way to solve onboarding challenges so merchants are accepting transactions in minutes, not days. Plus, the flexibility of the EVO Now platform facilitates easy integration of new features to meet shifting consumer preferences now and in the future.
EVO Now is hosted on EVO's servers and provides the merchant with a simple, streamlined app form that allows them to apply for a merchant account in minutes.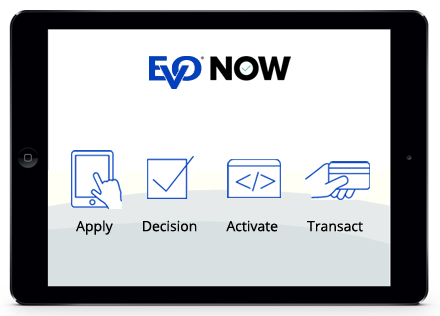 EVO Now Features:
EVO Now collects all information required by our internal systems for merchant boarding.
EVO Now allows the merchant to agree to our required T's & C's and Disclosures electronically.
Upon completion of the application, the merchant will be informed about the next step in the Underwriting process.
Merchants will also be given a link to a PDF copy of their Merchant Processing Agreement, which they can save for their records.
---
EVO Connect
EVO Connect brings together all of the tools our ISV partners need to run their business efficiently.
Merchant portfolio management
Merchant applications and underwriting (create new applications in EVO Now)
Multi-level residual reporting down to merchant

Upon logging in, every partner accesses a customized dashboard with statistics from their merchant portfolio including merchant processing frequency so they can easily track their portfolio's performance.
In addition to merchant reporting, the dashboard includes residual trends and average transactions and volumes. Partners can toggle between the months or the years to access the relevant information by date range.