Built with the highest security standards, these standalone terminals are EMV certified for Visa, Mastercard, Discover and American Express.
Dejavoo Anchor
Dejavoo
The Dejavoo countertop and wireless payment terminals provide an easy to use EMV payment experience for every business owner. With easy access to frequently used options in the "Favorites" Menu, merchants enjoy the ease of use.  EVO offers the Z8, Z9 and Z11 terminals, as well as the Z3 and Z6 PIN Pads. The terminals support the retail and restaurant industries and are EMV certified on EVO's front-end platform. Affordable and reliable, the Dejavoo terminals support chip cards as well as contactless and mag-stripe transactions.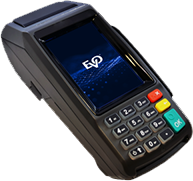 FEATURES
Fully EMV and PCI PTS certified
4G, Wi-Fi, Ethernet, and Dial options available
Multi-Merchant capable (up to 5)
Open Tab / Close Tab processing
Credit Surcharge Processing
BENEFITS
Intuitive easy to navigate interface is the same for all of the Dejavoo terminals
Receives software updates automatically (every 30 days)
Ingenico Anchor
Ingenico TETRA Countertop and Portable
Ingenico Group's next-generation countertop and portable POS terminals for both Semi-integrated and Stand-Alone solutions, TETRA series offers no fuss retail and hospitality compact payment acceptance devices. Ingenico terminals accept all electronic payment methods, including EMV chip and PIN, Magstripe and NFC/contactless. Plus, the latest from Ingenico Group is now certified for EMV processing on the EVO front end. Ingenico's PCI PTS 5 TETRA Desk and Move product line offers the latest in technology, security, and processing capabilities.
SUPPORTED FEATURES INCLUDE:
EMV chip and contactless
EMV w/Tip Adjust
EMV PIN Bypass
PIN Debit and EBT
2.8 inch Color or 3.5 inch Color Touch Screen
Integrated Printer
Wi-Fi and Wired Ethernet
Multi-merchant capable (up to 10)
Open Tab/CIose Tab Processing
Credit Surcharge Processing
Point to point encrypted card data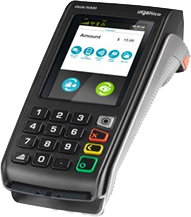 Nexgo Anchor
NEXGO N5
The NEXGO N5 is a sleek and secure Android-based tablet payment terminal. The NEXGO N5 combines the functionality of a traditional terminal with the intuitive functionality of a mobile device. The secure Android operating system is familiar and easy to use while also being PCI PTS 5 and secure with point-to-point encryption.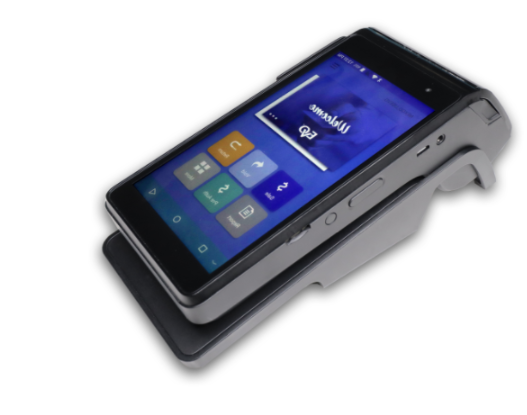 NEXGO N5 FEATURES
EMV chip and contactless
EMV w/Tip Adjust
EMV PIN Bypass
PIN Debit and EBT
SMB POS Product Catalog
Email Receipts and Reports
5 MP Camera
5.5 inch Touch Screen
Android 7 Operating System
Integrated Printer
Wi-Fi and 4G LTE Communication
Point to point encrypted card data
Pax Anchor
PAX
EVO has teamed with PAX, a global leader in payment solutions to allow merchants to accept transactions in either a standalone mode or a semi-integrated mode using PAX EMV-certified terminals. PAX terminals accommodate all forms of electronic payment including EMV chip-and-PIN, EMV chip-and-signature, contactless and mobile NFC for Apple Pay and Google Pay.
FEATURES
Fully EMV and PCI PTS certified
Various Cardholder Verification Methods (CVMs) are supported (All, Signature, None)
Fast processing time
Multiple PAX terminal hardware options available for any environment
BENEFITS
The simple interface is the same for all any of the PAX terminals, so merchants can seamlessly switch devices
Hardware sales & support and terminal downloads are provided by EVO
The PAX application offers the ability to accept transactions for retail and restaurant merchants on the A80, A920 and A920 Pro terminals