Whether your customers need to process payments online, set up recurring billing, or launch an online store, EVO will work with you one-on-one to meet your unique needs.
Virtual Terminal Anchor
Virtual Terminal
EVO VT is an ideal payment solution for many business types – B2B companies, professional healthcare offices, e-commerce merchants who sell from a website, and merchants who accept mail and telephone orders.
EVO Virtual Terminal makes it easy to turn any internet-connected PC or laptop into a low-cost, convenient way to accept credit and signature debit card payments.
Simply open your internet browser, log on to the EVO VT homepage, and
start processing payments quickly and securely. You can either key in credit card information or swipe cards with an optional card reader.
The Benefits of Virtual Terminal
EVO VT saves money. No need to buy a credit card terminal, supplies or software. No commitments or long-term contract.
EVO VT saves time. No software to download or update, two-second transaction times, and the ability to set up automatic recurring payments for customers you bill on a regular basis.
More features at a lower price. Customizable data fields, a Secure Customer Vault that stores card information for future processing, and powerful but intuitive reporting to manage finances.
Flexible payment options. Swiped, manual, credit, signature debit and gift cards. All major cards accepted: Visa, Mastercard, Discover, American Express and JCB.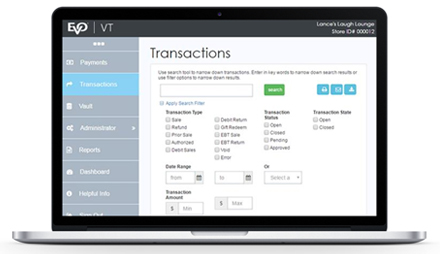 ---
PayFabric Anchor
PayFabric
PayFabric® Gateway is a cloud-based payment acceptance platform and storage hub developed by Nodus Technologies, a division of EVO Payments, that builds A/R automation tools and is a leading payment integration provider for Microsoft Dynamics.


PayFabric can be integrated with any application, platform, and back office environment with ease and simplicity. In addition to providing credit-card and ACH processing, PayFabric simplifies PCI compliance, supports tokenization, and by supporting Level II and III transactions, helps B2B merchants save on processing rates.
PayFabric Features
Virtual Terminal
Process payments from desktop and mobile applications, ERP and CRM platforms, card swipe and more.
Accept ACH, debit cards, and all international card brands, including Visa, Mastercard, American Express, Discover, and JCB
Promotes Level II and Level III transaction data for corporate and purchasing cards
Payment Link
A hyperlink that allows for quick and easy payment collection. Customers simply click a link in the email or text message to review invoice details and make payment, without logging into a website or payment portal.
Customer Payment Portal
A secure payment portal that enables merchants to accept electronic payments from customers. It is a simple way to integrate electronic payment acceptance with any application.
Increase customer convenience – gives them 24/7 access to their account
Keep sensitive payment details away from your business
Reduce billing expenses by delivering invoices and processing payments electronically
Process recurring payments automatically
PayFabric Receivables
---
3rd Party Gateways
3rd Party Gateways Anchor
EVO's payment platform plugs seamlessly into third-party applications – payment gateways, POS systems, mobile solutions, and ERPs to name just a few. Our strategic integration partners include Authorize.net and Datacap.
For over 20 years, Visa's Authorize.Net has been providing payment management solutions to small businesses of every type. Because Authorize.Net was built with the primary objective of servicing the small merchant, it offers a unique feature set designed to get merchants up and processing quickly, simplify payments, protect against fraud, securely store sensitive data and provide access to business analytics to aid the merchant in managing their business. Currently, Authorize.Net provides payment management services to 440,000 merchants, processing over one billion transactions annually.