More About EVO's ISV Solutions
EVO offers a wide range of semi-integrated terminals that combine the most advanced technologies, the highest security standards, and accept all forms of electronic payment including, EMV chip and PIN, EMV chip and signature, contactless and mobile NFC for Apple Pay and Android Pay.
Datacap
Datacap's PA-DSS validated NETePay™ EMV and GIFTePay™ integrated payments software provides POS developers with a direct conduit to EVO Payments while adding support for innovative payment features, an evolving list of plug-and-play hardware, and constantly changing payment industry standards.
In addition, EVO Payments has added NETePay Hosted ™ and TranCloud ™ to our current suite of Datacap products, allowing for a true omni-channel solution. Best of all, EVO makes it simple for ISVs to integrate!
NETePay HostedTM
It's traditional NETePay but hosted in the cloud
Key features include Credit/Debit Contact/Contactless EMV, Tableside Payments (push), Tip Adjust, Tokenization, Store and Forward, Auto Updates, and Credit Surcharge
Uses the same integration methods
TranCloudTM
Tablets and browser POS
Key features include Credit/Debit Contact/Contactless EMV, Tableside Payments (push), Tip Adjust, Tokenization, Store and Forward, Auto Updates, and Credit Surcharge
Tokens can be shared across all acceptance channels
PDC EMV
PC / ECR / ROM-based POS with serial ports
Key features include Credit/Debit Contact/Contactless EMV, Tip Adjust, Tokenization, and Auto Updates
Legacy Tran Devices
Pay APITM
Incorporate in-app, eCommerce, MOTO or any non-EMV transaction within the same ecosystem
WooCommerce is an open source eCommerce plugin for WordPress websites and is used by 3.9M sites
Adobe Magento Commerce is used by more than 100,000 eCommerce sites
Features
Simple and fast integration option for
omni-channel ISVs
NETePay Hosted will consolidate payments from any channel
Fast path to EMV acceptance via semi-integration software or hardware
Transaction tokens and token sharing across chains
Merchant reporting portal
Datacap Products
NETePay with ID TECH Augusta
NETePay with Ingenico Tetra Lane, Move and Link devices
GIFTePay
NETePay Hosted
NETePay PayAPI
TranCloud
With Datacap, point of sale applications can process integrated EMV, credit, debit, EBT and gift transactions directly to EVO Payments via one simple interface.
---
Ingenico TETRA Series
The Ingenico TETRA series offers retail and hospitality POS integration options on a compact payment device using minimum countertop space. The TETRA series meets the latest PCI v5 security standards and perform with outstanding reliability. Integrations include direct communication using the Ingenico TSI 1.8 spec or one of the SDK options for a variety of configurations.
Ingenico terminals accept all electronic payment methods, including EMV chip and PIN, magstripe and NFC/contactless. The TETRA series supports EMV tip adjust and include secure point-to-point encryption (P2PE) of card track data.
Ingenico TETRA Desk/3500 – Compact and easy to use, the Desk/3500 offers fast processing, a full color screen and large tactile keys.
Ingenico TETRA Desk/500 – offers all the features of the Desk/3500 plus a larger 3.5 inch color touch screen.
OTHER CAPABILITIES OF THE TETRA TERMINALS INCLUDE:
Wired or Wi-Fi connection options
Vivid color touchscreens and large, tactile key pad
EMV chip card and contactless mobile wallet acceptance
EMV "quick chip" processing with tip adjust support
Point-to-point encryption of customer's card data
Portable Move/5000 for payment at the table or anywhere
---
PAX Terminals
EVO has teamed with PAX, a global leader in payment solutions to allow merchants to accept transactions in a semi-integrated mode using PAX EMV certified terminals. PAX terminals accommodate all forms of electronic payment including EMV chip and PIN, EMV chip and signature, contactless and mobile NFC for Apple Pay and Android Pay. This EMV solution removes a merchant's POS system from PCI scope since all credit card collection, processing and storage is managed by the PCI-PTS certified PAX device.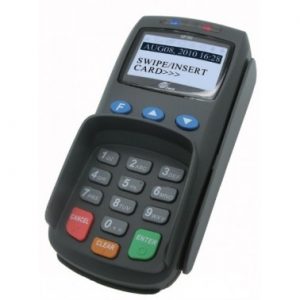 PAX MT30s – Features touch screen and electrostatic pen to enable signature capture.
PAX SP30s – PIN pad fits in palm of hand and provides unsurpassed security and reliability.
PAX S300 – Retail payment solution for multi-lane merchants, accepts contactless, e-signature, mag stripe, chip and PIN transactions.
---
Verifone PIN Pads
Verifone's range of products are designed with security and simplicity in mind. From basic payment acceptance to more advanced features and functionality, these devices provide merchants with the tools and flexibility they need to operate efficiently and effectively. This semi-integrated payment solution supports all payment types
The VX 820 integrated PIN pad has a high resolution 3.5" color touchscreen and backlit keys to ensure readability in any environment. It enables on-screen branding and provides an enjoyable customer experience. This incredibly advanced and intuitive device is tailored to retail environments for easy consumer use. The bold, ergonomic design provides a robust feel—as a handheld PIN pad or in a mounted position.
Verifone's VX 805 PIN pad delivers reliability, usability and next-generation NFC capabilities, all in one amazingly convenient payment device. Ideal for large or small retailers, the VX 805 offers excellent value with full functionality and secure reliability.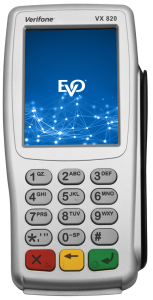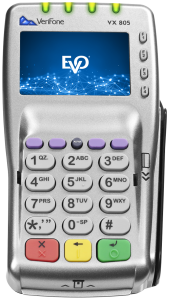 ---
Dejavoo Terminals
The Dejavoo countertop and wireless payment terminals provide an easy to use EMV payment experience. The terminals support the retail and restaurant industries and are EMV certified on EVO's front-end platform. Affordable and reliable, the Dejavoo terminals support chip cards as well as contactless and mag-stripe transactions.
The Dejavoo Z11 is the newest touch screen countertop POS device. Complete with magstripe and contactless NFC readers, as well as an internal Pin Pad, the Z11 allows merchants to securely process all forms of electronic transactions whether it be mobile wallet such as Apple Pay and Google Wallet, magstripe, or EMV-compliant chip cards. The Linux operating system allows for lightning fast transactions using any of the communication ports.