How Many Payment Options Are There?

Providing competitive customer experiences is key to business success, and for today's merchants, that means tailoring experiences to include the cashless payment options that consumers demand. Independent software vendors (ISVs) that form a strategic partnership with a cashless payments provider can help their clients meet those demands – while building strong client relationships and new revenue streams.
How to Add Value to Your Solutions with Integrated Payments
The future of competitiveness in the marketplace hinges upon speed, convenience, helpful employees, and friendly service. ISVs that develop a winning formula aligning people, technology, and service into an unforgettable experience will help their clients reap the rewards. According to PwC, more than 63 percent of consumers are willing to share more personal information and pay 16 percent more for products and services offered through a company that provides great experiences. Contrast that with the fact that one bad experience will drive 32 percent of customers away – even from a brand they love.
While consumers often use credit and debit cards, how they choose to make payments and the experiences they expect at the checkout vary. In the payments landscape, delivering a winning experience means being prepared to accept various payment options that give consumers choices.
This checklist will help ensure that the payments platform you choose to integrate offers all of the functionality that today's merchants need.
mPOS
The expectation for on-the-spot, personalized services drives the demand for mobile point of sale (mPOS). Some benefits include enabling line busting to keep queues short and allowing QSR customers to pay in a drive-thru line before they reach the pickup window or pay for parking as they enter a lot or garage.
Pay at the Table
Restaurants can enhance overall dining experiences by equipping servers with mobile devices that enable them to take orders at the table, immediately transmit them to the kitchen, and, when it's time to settle the bill, accept payments and tips in a single step at the table.
Vending and Micro Markets
Consumers appreciate the option of making purchases in convenient self-service unattended locations. They enjoy vending machines that expand their offerings from snacks or other small dollar items to higher-value items sold at automated retail smart machines or micro markets. Consumers can often purchase these items via an app or pay-by-app to increase convenience.
Pay Stations
These self-service stations enable automated payment options in parking lots and garages. Pay stations make it easy for consumers to pay for parking or charge electric vehicles.
Kiosks
While kiosk adoption is growing in all niches, it's particularly profitable among QSR restaurant operators, who devote 41 percent more resources to providing kiosk solutions. About 65 percent of consumers state they would visit a restaurant with a self-service kiosk more often, and kiosks help cover ordering and payments in industries struggling with labor shortages. Additionally, when consumers order from a self-service kiosk, they can spend as much as 30 percent more than they do when ordering from an employee.
E-commerce
According to the US Department of Commerce Retail Indicator Division, e-commerce sales in 2021 increased by 14.2 percent over 2020 and 50.5 percent over 2019. Accepting payments online for delivery or in-store or curbside pickup has become essential for competitive merchants, and consumers expect to use their preferred payment options.
Pay by App
Pay-by-app offers consumers payment options that allow them to pay quickly and conveniently for goods and services via their smartphones without an attendant to process payment. For example, they can order and pay for food, pay for and start a washer in a laundromat, or pay for additional time on a parking meter remotely.
Apple Pay, Google Pay, and Other Mobile Wallets  
Mobile wallet payment options like Apple Pay and Google Pay allow consumers to make m-commerce payments quickly and easily – there's no need to enter card data each time a consumer makes a purchase. As a result, mobile wallet adoption is getting a boost from consumers who've discovered it's a convenient payment option on any channel. Studies project that there will be more than 6 million new mobile wallet users through 2025.
QR Code Payments
QR code payments allow consumers to scan a code to pay, possibly as a part of a pay-by-app process, but the link embedded in the code can take consumers to a payment page, so they can make payments without downloading an app.
Omnichannel Tokenization
Consumers are becoming more accustomed to mobile wallets or apps that streamline the process by not requiring them to re-enter card numbers once they register as a user. Tokenization enables merchants to securely process transactions without storing actual card data to reduce their PCI-DSS scope. In addition, omnichannel tokens work across all business channels, providing even more convenience.
Recurring Payments
This payment option is ideal for merchants needing a way to offer subscription services or payment plans. Consumers enter transaction data once to have future payments processed automatically based on the payment schedule selected – it's convenient for customers and efficient for merchants.
Meet the Demand for Payment Options that Win Customers
It would be overwhelming for you to attempt to build a system of disparate payment solutions that work in a complex environment. Instead, the best approach to delivering customer experiences that will help your merchant clients meet demands is to choose one payment platform that provides all the options consumers demand.
Contact EVO to learn more about a partnership that benefits your ISV business.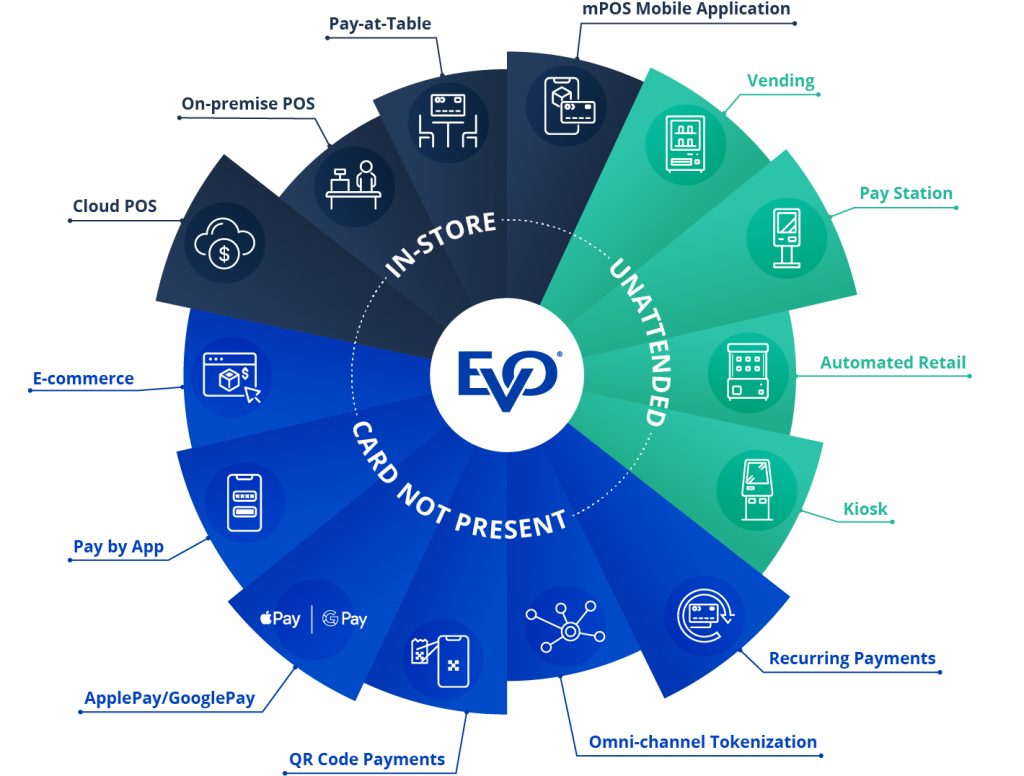 Related News

Once consumers discovered the ease and convenience of these payment methods, they didn't look back. Today's consumers are technology-driven,…

Providing competitive customer experiences is key to business success, and for today's merchants, that means tailoring experiences to include the…

Although the U.S. is facing tough economic times, smart value-added resellers (VARs) and independent software vendors (ISVs) are finding opportunities…